Photo Credit: Mark Raynes Roberts



Follow me on Twitter and check out (and like) my author page on Facebook...






What's New...



Jennie's Boy has been listed as one of the CBC Top 23 Memoirs to Read This Holiday Season.

Read this recent Kirkus review for Jennie's Boy

Listen to this CBC Weekend AM broadcast with Heather Barrett.

Read this Jennie's Boy article about celebrating an imperfect life at National Post . This article was also published in the Vancouver Sun, the Windsor Star and the Calgary Herald.

Read this Toronto Star review about Jennie's Boy.

Read the CBC Books This Fall article about Jennie's Boy.


Jennie's Boy included in the Toronto Star's Most Anticipated Fall Books.

New this fall...

Jennie's Boy, A Newfoundland Childhood
Memoir
Knopf Canada
Hardcover, 304 pages
September, 2022

Now available as an audiobook. Please click the cover image to learn more.


The Mystery of Right and Wrong is now available in the United States - see this review.



Interview Playlist


Browse this playlist for interviews, guest appearances, or call-ins featuring Wayne Johnston.


Praise for Wayne Johnston


Wayne Johnston is prodigiously talented.
-- The Globe and Mail

Wayne Johnston is a brilliant and accomplished writer and his Newfoundland boots and boats, rough politics and rough country, history and journalism is vivid and sharp.
-- Annie Proulx

Unlike most recent bestselling novels that are remembered for the plane flight and then promptly forgotten, Wayne's stories have characters who move in and take up permanent residence.
-- Mary Walsh

[Johnston is] a literary giant who has god-given talent.
-- Will Ferguson, The Globe and Mail

His books are beautifully written, among the funniest I've ever read, yet somehow at the same time among the most poignant and moving.
-- Annie Dillard



Welcome to my web site. I feel like adding said the spider to the fly. I'm writing to you from a sound-proofed bunker in my basement. I have a low tolerance for noise, one of the reasons that I prefer to write at night - sometimes all night. If you have questions about me or any of my books, I'll do my best to answer them. I really appreciate direct feedback from readers, especially the ones who like my books. It won't change the way I write my books and my answers may not change the way you read them, but at least we'll have closed that gap between writer and reader.

To send me an email, click here. Should I not respond to your queries or comments, please alert my publicist: Ashley Dunn at adunn@penguinrandomhouse.com (or 647-788-3976) and tell her of my inexplicable silence. See you on the literary hustings.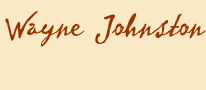 December 2022 - January 2023:

Virtual: Dec 6 - Jan 20 | Vancouver Writer's Fest selected pay-what-you-can sessions - including an on-stage interview by Rob Wiersema with Wayne Johnston.